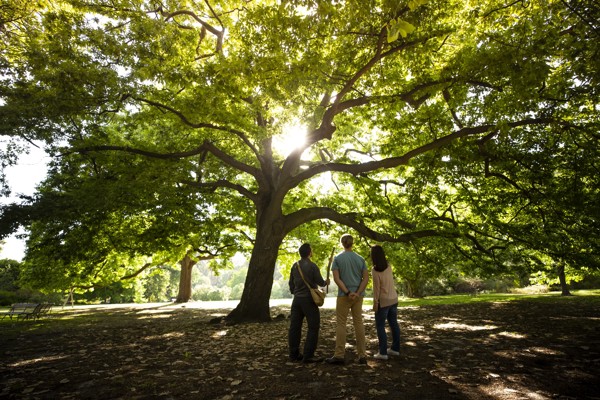 The Climate Change Alliance: botanic garden horticulturists as agents for change
Download and read this fantastic article on the Climate Change Alliance, by Peter Symes and Clare Hart.
The Botanic Garden that Thought it Could Change the World
Join acclaimed writer and climate activist Sophie Cunningham (author of Melbourne and City of Trees) in virtual conversation with Charlie Carroll, Manager Arboriculture, and Clare Hart, Manager Horticulture, about the Gardens' Landscape Succession Strategy and the international Climate Change Alliance of Botanic Gardens.
Collaboration between botanic gardens across the globe is essential in understanding how plants will grow and survive in a warming climate. Sophie, Charlie and Clare will discuss how the Climate Change Alliance was formed right here in Melbourne, and how botanic gardens can harness their expertise to share and exchange skills and information on a global platform.
Horticulture Forum - September 2021
For the inaugural CCABG Horticulture Forum we were fortunate to have RBGV Melbourne Garden's own Kate Roud presenting Some Don't Like It Hot: Safeguarding the New Zealand Collection at RBGV Melbourne.
In this presentation Kate talks about the challenges of maintaining a collection of plants which typically want more cold temperatures and more water that Melbourne is known for, and the opportunities which arise when keeping such a collection in a climate which is only getting hotter and drier.
For a transcript of this presentation click here.