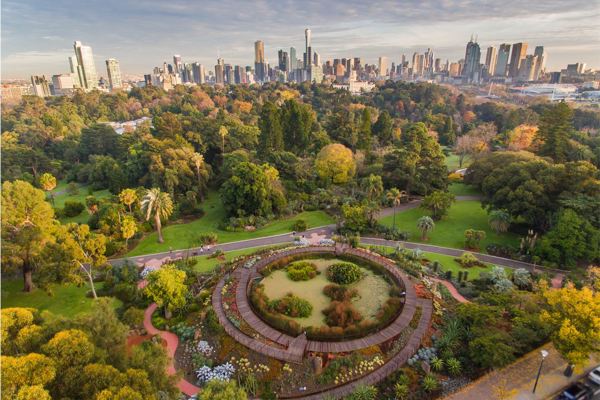 17th Australasian Botanic Guides Conference
Share and Inspire - Guiding for People, Plants and Planet. 
23 - 28 October 2022
Welcome to the 17th Australasian Botanic Guides Conference 2022 hosted by the Royal Botanic Gardens Victoria. The conference is catered to volunteer botanic guides only and is a five-day event, single day registrations are not available. Attendees will be welcomed to both the Melbourne and Cranbourne Gardens for exciting talks, workshops and day excursions.
The registration fee of $420.00 covers all activities except for the Thursday Lakeside evening, optional social event which is an additional fee of $90.00.
The five-day event has over 100 individual sessions to choose from and you must complete your selections in one sitting (selections cannot be saved or revisited).  
For further enquiries please call +61 3 5990 2266 or email 17thABGC@rbg.vic.gov.au
How to Register, please watch the below 5 min video before registering.
An instructional video on how to register to the 17th Australasian Botanic Guide Conference - YouTube
We are all very excited to host you in October!
Pre and Post Conference Touring
These tours are not part of the Conference proper and arrangements for booking will be provided in updates that will be received on registering your interest through this website.
NO LONGER AVAILABLE  - WEST GIPPSLAND
Friday 21st to Sunday 23rd October 2022

This tour comprising 3 days and 2 nights will be led by an experienced gardens guide and will take in 4 private gardens displaying outstanding spring blossoms. West Gippsland is approximately 100 km southeast of Melbourne, an area rich in dairy farming area spread across the rolling Gippsland Hills. The more northerly hills become steeper as they merge into the Great Dividing Range. Relatively fertile, the lowland areas are mainly given over to dairy farming, but are also noted for their niche agricultural produce, giving rise to the term "Gippsland Gourmet Country".
WESTERN DISTRICT
Friday 28th to Monday 31st October 2022

This tour comprising 4 days and 3 nights will be led by an experienced botanical guide and will visit renowned gardens in Victoria's western district. As well as botanic and private gardens it will incorporate homesteads, and views of the spectacular Grampian Ranges. The Western District is bounded by the Wimmera to the north, the Goldfields to the east, Bass Strait and the Southern Ocean in the south, and by the South Australian border in the west. It consists of a nearly flat volcanic plain which makes it the best grazing land in Australia as well as suitable for production of vegetable crops. The district is well known for its wool production.
Walks, Talks and Workshops
Accommodation options will be provided in email updates upon registering your interest in the 17th Australasian Botanic Guides Conference on this website.
These will include a mix of hotels/hostels and apartments within easy reach of Royal Botanic Gardens Melbourne, together with distance from the Gardens and suggested public transport route.
Getting from Melbourne airport
Taxis
A taxi fare from Melbourne Airport to Melbourne CBD is approximately $70 and takes about half an hour.

Uber
You can request an Uber ride once you have exited the terminal. Your driver will meet you at the pick–up area.

SkyBus
The SkyBus shuttle operates seven days a week from the airport to Melbourne CBD and city hotels. Tickets can be purchased on arrival or online.
Getting to Melbourne Gardens
Train
The closest station is Flinders Street Station. From there it is about a 30 minute walk to the Gardens' main entrance or you can catch a tram along St. Kilda Road.

Tram
Tram routes 3/3a, 5, 6, 16, 64, 67 and 72 run regularly along St Kilda Road. Alight at Stop 19 Shrine of Remembrance/St Kilda Rd.
Free Tram Zone
The zone includes ALL trams within the boundaries of Spring Street, Flinders Street and La Trobe Street. Additionally, the tram routes along Victoria Street, William Street and Elizabeth Street as well as the Docklands area. You will need a Myki card to get to the gardens.
The Royal Botanic Gardens Melbourne is located in Birdwood Avenue South Yarra, approximately two kilometers from Melbourne's city centre.
For information about public transport in metropolitan Melbourne and regional Victoria visit Public Transport Victoria. You can plan your trip using the PTV journey planner.
You will need a myki card to travel on all public transport within metropolitan Melbourne and to some regional areas. You can buy a physical myki card or, if you have an Android phone, a digital myki called Mobile myki. Physical myki cards can be purchased and topped up at various shops, myki machines at train stations, or online (note: myki machines only sell Full Fare myki cards).
If you are new to Melbourne you may want to purchase a myki Explorer, which includes a ready-to-use myki card with one day's unlimited travel on trains, trams and buses in metropolitan Melbourne, maps for trains, trams and the city centre, plus access to a range of offers across Victoria.  A myki Explorer can only be purchased from selected outlets. A digital myki can be accessed with an Android phone via Google Pay.
While in Melbourne make the time to enjoy the city's many attractions and activities via the Visit Melbourne website.
You may also want to plan a trip exploring the natural beauty of regional Victoria via the Visit Victoria website. 
The Royal Botanic Gardens Victoria comprises two sites, the Melbourne Gardens and the Cranbourne Gardens.   
The Melbourne Gardens is a treasured part of Melbourne's cultural life. It celebrated its 175th year in 2021 and has been much loved by Victorians and by visitors from interstate and overseas. It is a picturesque haven for recreation and an important resource for education, conservation, science and horticulture. Melbourne Gardens extends over 38 hectares and houses a diverse collection of more than 8,500 species of plants from around the world. 
The Cranbourne Gardens opened to the public in 2006 and includes an area of natural bushland alongside the Australian Garden.  The Australian Garden is an award-winning, contemporary botanic garden that celebrates the beauty and diversity of Australian landscapes and flora and features approximately 170,000 plants from 1,700 plant varieties. The bushland area is one of the few remnant heathland ecosystems close to Melbourne and is home to the Southern brown bandicoot. The overall Cranbourne site encompasses 363 hectares. 
At Melbourne Gardens there are three categories of volunteers: Volunteer Guides who have led guided walks and special interest walks for 40 years, the Ian Potter Foundation Children's Garden Volunteers who are involved with horticultural duties and in assisting with various children's programs (this garden opened in 2004), and the Garden Ambassadors who enhance visitor experience by informing and engaging with visitors by roaming the gardens or by utilising their mobile pod. 
At Cranbourne the Garden Ambassadors engage with visitors and share information about the Australian Garden both one to one and on guided walks.
Download the Gardens' Maps